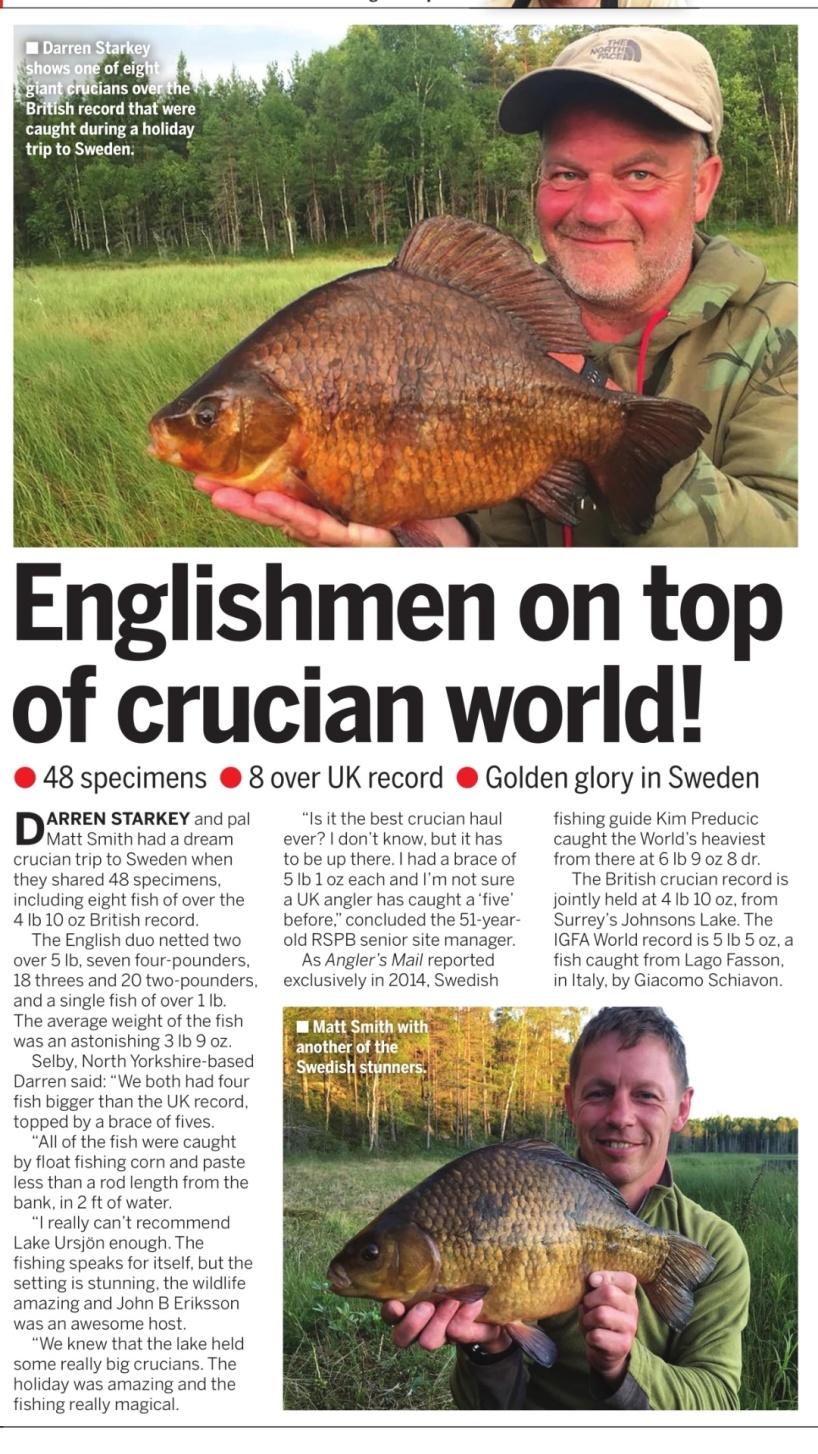 Here are some feedback we received from guests at the lake.
"The most exciting lake I ever have visited."
Fredrik Larsson, Sweden.
"Lovely to see that the water is perfectly maintained ""
Roger Hellsten, Sweden, July 18, 2016 on Ursjön Facebook Page.
"Impressive work with creating all fishing swims. Luxurious and comfortable."
Fredrik Lingons, Sweden, 2017 on Facebook Messenger.
Ursjon is an experience not to be missed by the serious Crucian angler, the fish do not give themselves up easily. That's the nature of the Crucian Carp but when they do the rewards are very high. The lake is unique and I have not fished a venue like this before, the fish are incredible colours and size. I look forward to a return in the near future, amazing place and if you are prepared to make the effort you will understand why this is a special Crucian venue.
Russ Evans, England, Facebook, 13 August, 2017.
Just returned from 3 days at this fabulous lake! My mate and I managed 8 fish from 2-9 to 3-12 ! Great place we will back.
Keith Snelgrove, UK, July 24, 2016.
"We will come back again! It was a great experience"
Kevin Bäumler, Germany, 2017 on Facebook Messenger.
"Ursjön is a beautiful lake set deep in the Swedish countryside."
Tim Heighes, Sweden/UK, August 9, 2017 on Lake Ursjöns Facebook Page.
"Excellent fishing management. What an amazing job you guys have done with the lake. Outstanding!"
Peter Mokricki, Sweden, July 22, 2017 at Lake Ursjön.
"It is a stunning place. An amazing environment with lots of wildlife. A beautiful quiet place far from bigger roads etc.!"
Lars Christensen, Denmark, July 7, 2017 on Facebook.
"Lake Ursjön was just as special as I imagined. The fishing platforms are very good and the fishing are extremely exciting. It's hard to describe with words, but the wisdom that there are huge fishes that create the bubbles is incredible."
Christian Ottosson, Sweden, 2017 on Facebook Messenger.